Energy Code & Benchmarking Roundtable [Recap]
This blog post recaps NAIOP Washington State's Sustainable Development Committee Energy Code and Benchmarking Roundtable Presentation, held on October 13, 2015. Eric Vander Mey, Principal – Director, Rushing, and Christie Baumel, Climate & Energy Advisor, Seattle Office of Sustainability & Environment, presented at the meeting and gathered feedback. Their slide presentations are available as PDFs; look for the link following each section.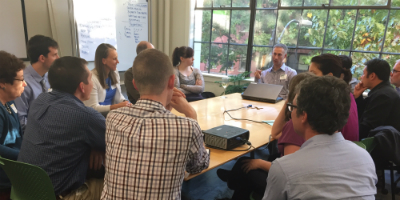 Washington State Energy Code (WSEC) Update by Eric Vander Mey, Principal – Director, Rushing
WSEC development timeline:

November 2015; WSBCC Issues Final Draft

December 2015; WSBCC Issues Report to State Legislature

July 2016, post WA Legislature Approval, Energy Code Adopted

WSEC goals; the energy code must achieve 70% reduction against the 2006 WSEC baseline

Any new measures must be technically feasible, commercially available and cost-effective

The Washington State Building Code Council (WSBCC) has defined "cost-effective" as net present savings over a 50-year life cycle of a building.

Executive Order 14-04 directs the WSBCC to "achieve early and widespread deployment of energy-neutral buildings prior to the 2031 statutory requirement in FCW 19.27A. 160"

Proposed Major changes to the WSEC:

Mechanical systems; required Dedicated Outdoor Air Systems (DOAS); ventilation is supplied independently of space heating and cooling systems in five building types: Office, Retail, Education, Libraries, Fire Stations. The DOAS shall also include either energy recovery ventilation and/or demand control ventilation.

Interior lighting power densities (LPD) reduced by 20% over the 2012 WSEC allowance through a number of new requirements

Onsite renewable energy; increase in onsite renewable energy requirement based on building area type table for the 1st five stories of the building. This provide a realistic requirement for tall buildings that don't have sufficient roof area to accommodate renewable energy.
Roundtable discussion on the WSEC:
Is DOAS mandatory? For specific building types yes using the DOAS system table.

Can natural ventilation be combined with some of the new requirements? Nothing in the code prevents natural ventilation, DOAS can work well with natural ventilation. DOAS & heating only, combined with economizer meets the code.

There is a need for Washington to standards energy modeling standards

Some options in the new code target performance path, able to utilize EUI target
Click here to download Eric's slide presentation. For questions contact: Eric Vender Mey, Director, Principal, Rushing, ericv@rushingco.com
City of Seattle proposed Benchmarking/disclosure and Building Tune-Up proposal presented by Christie Baumel, Climate & Energy Advisor, Seattle Office of Sustainability & Environment
Seattle's Climate Action Plan (CAP) building energy targets:

63% reduction – residential

45% reduction – commercial

63% reduction – GHG intensity of building energy use

CAP strategies:

Information – Smart meters, Energy benchmarking, Home energy information

Incentives & Assistance – Utility incentives, Streamlined permitting, Financing

Performance Requirements – Energy code, Efficiency standards

Energy Supply – Clean electricity, District energy

Progress to targets:

Residential on track

Commercial well below target. Target is 1.1% reduction / year – actual is .25% / year

Commercial sectors needs to improve

Next Steps:

Key strategies identified to help improve commercial building performance – Policy Legislation this Fall/Winter

Energy Benchmarking Transparency

Periodic Tune-Ups

Energy Benchmarking Transparency proposal

Energy and Carbon information for all commercial buildings that currently are required to benchmark will be available in an online platform to create greater transparency prior to the Point of Transaction, giving purchasers/leases information earlier in their decision process.

Transparency would start with 2015 data, reported in 2016

No change to owners submittal requirements

Building tune-ups objectives

Optimizing building performance through active management of building systems

Tune-ups yield 5-20% energy savings and pay back in 2-3 years on average

Effecting commercial buildings = or > 50,000 Sq. Ft.

Phased in by building size, beginning in 2018

Tune up required every 5 years

Exemptions available with evidence of good performance such as LEED certification, Energy Star certified

Schedule for Benchmarking and Tune-up proposal

Considered by Council – December 2015

Director' Rules – Spring 2016

Publicizing 2015 Benchmarking – Fall 2016

First Tune-Ups – Fall 2018
Roundtable discussion on Benchmarking and Tune-up proposal
What are some options to make energy benchmarking more successful?

Diligent auditing for anyone not using upload from the utility method.

Allow for commentary from the owner to explain the unique impacts on energy for a building.

Fair comparison of different uses: residential versus biotech office for example

How can tune-ups be successful?

Payback in 2-3 years

Green leasing standards; tenants are the largest impact on energy use

Identify outliers for appropriate consulting help

Include requirements for corrective action

Tenant education
Click here to download Christie's slide presentation. Questions: Christie Baumel, Seattle Office of Sustainability & Environment, (206) 233-7173, [email protected]
This article was written by NAIOP Washington State and Sustainable Development committee member Dina Belon, Director, Paladino & Company.
The Deal is generously sponsored by:

Share this post: