17th Annual Real Estate Challenge
PSU Edges Out UW and UBC for NAIOP Real Estate Challenge Victory
Portland State University won NAIOP Washington's Real Estate Challenge for the second year in a row, besting both University of British Columbia and University of Washington with a mixed-use multifamily and retail project that featured, among other things, cross laminated timber (CLT). The innovative PSU proposal named The Lighthouse, "pays homage to the history of the Pacific Northwest's timber industry," and seeks to cater to the tech innovation playing out in Bellevue.
Portland State's winning team of students led by Gerald Mildner (not pictured) and Jerald Johnson. Left to right: Alessandra Sanchez, Jennifer Dillan, Dirks Mathias, Tim Lawler, Michael Lowes, Andrew Goodman, Elton Yuan, Jerald Johnson
The winning team of students are in the Master of Real Estate Design (MRED) program at PSU, where they will be able to display the Bob Filley Cup for the next year. The team mentors were Profs. Gerald Mildner and Jerald Johnson, and the team included Jennifer Dillan, Andrew Goodman, Tim Lawler, Michael Lowes, Dirks Mathias, and Elton Yuan, who were aided by undergraduate students from the PSU School of Architecture, represented by Alessandra Sanchez.
The competition was held remotely due to public health concerns, but teams were able to present their proposals via video conference to a panel of judges from varying sectors of the western Washington commercial real estate industry.
The University of Washington's Real Estate Challenge team led by Al Levine (not pictured). Left to right: Yanli Lu, Bruce White, Rebecca Spencer, Vincent Huang, and Sakriti Vishwakarma. Not pictured: Ogun Arsla
University of Washington and University of British Columbia also made excellent showings with Belle Vive, a luxury senior living housing project; and The Aeda, a mixed-use development, respectively.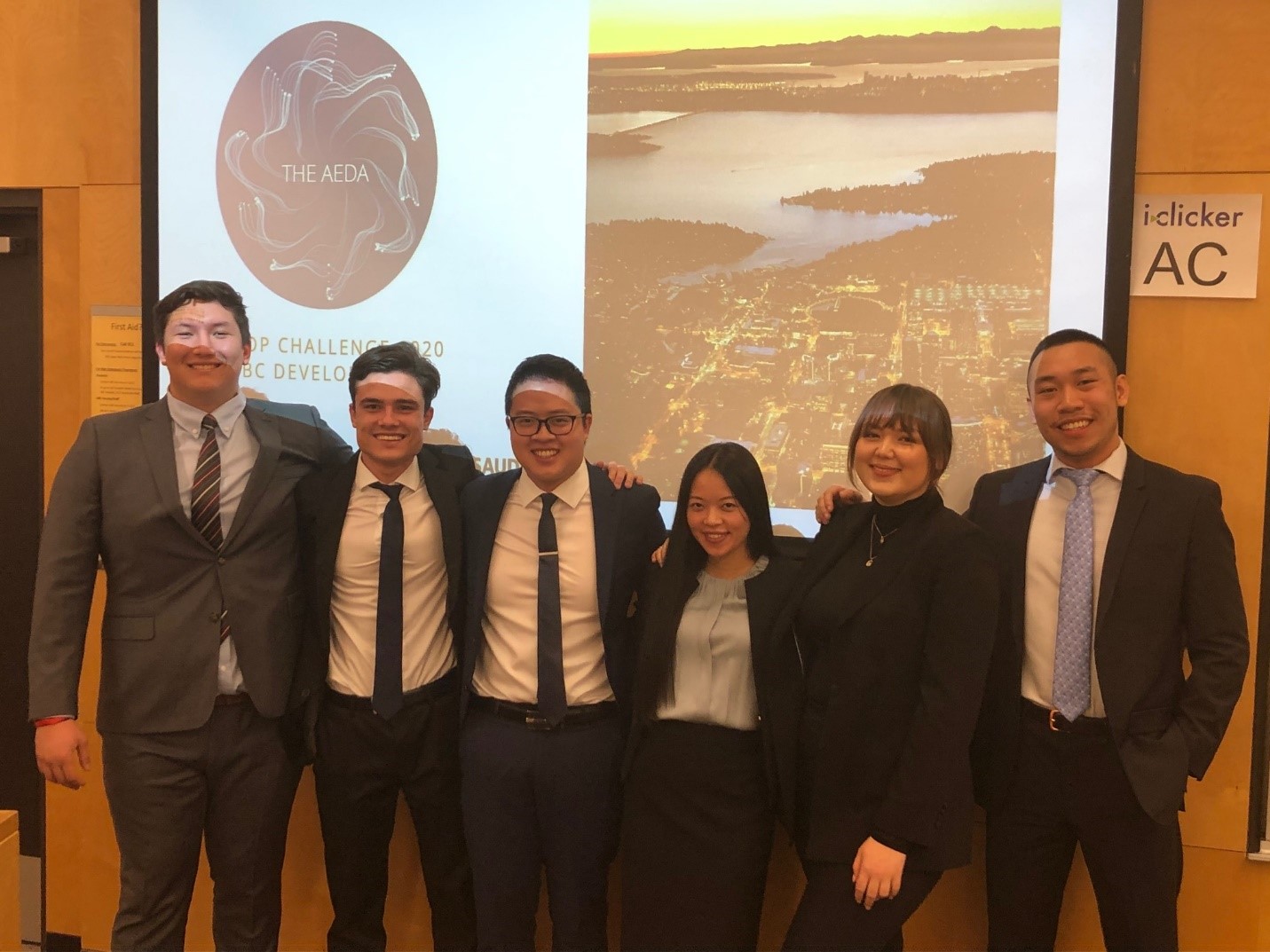 University of British Columbia's Real Estate Challenge Team led by Tsur Somerville (not pictured). Left to Right: Nick Econome, Nabi Sarhadi, Bryce Young, Winnie Fang, Iana Shakirova, Evan Tong.
The competition is hosted every year by NAIOP's Real Estate Challenge committee. Special thanks to our featured site sponsor, McAusland Real Properties, as well as our 2020 REC sponsors: Vulcan, MG2, Touchstone, Pacific Project Management, Panattoni, Moss Adams LLP and Coughlin Porter Lundeen, which hosted the judging and market expert panels on the day of the competition. Additional thanks to the 2020 judges, Allison Shepherd (Holland Partner Group), Chris Rossman (The Wolff Company), Ed McGovern (Security Properties), and Patrick Woodruff (Hines); as well as our committee chairs, McKenzie Darr (The Wolff Company) and Sean Durkin (Lee & Associates | Seattle) for their efforts in organizing the event. Congratulations to Portland State University on another great win!
Thank you to our 2020 Market Experts:
Ian Morrison, McCullough Hill Leary, PS
Jeff Watson, Broderick Group
Joseph M. Polito, Touchstone
Josh Nasvik, Polaris Pacific
Mark Washington, CFA, Eastdil Secured
Monica Wallace, Wallace Properties
Patrick DiStefano, Graphite Design Group
Reid Rader, Eastdil Secured
Torrey Davis, JTM Construction
Share this post: