Are You Ready for the Next Generation of Leadership? [Recap]
On Wednesday, October 21, the Developing Leaders Committee presented a program entitled "Are You Ready for the Next Generation of Leadership?" The breakfast was sponsored by BN Builders and Adolfson & Peterson Construction - we sincerely thank them for their continued support. Incoming NAIOP President John Teutsch began the meeting with a list of new members. Davis Vaughn from the Developing Leaders Committee gave an update on the Mentoring Program. Angelia Wesch, Partner with Oles, Morrison, Rinker moderated a panel that was eminently qualified to address the topic at hand. Panelists included:
Mark Hoyt – Trammell Crow Residential

Douglas Howe – Founder of Touchstone Development

Kemper Freeman – Chairman and CEO of Kemper Development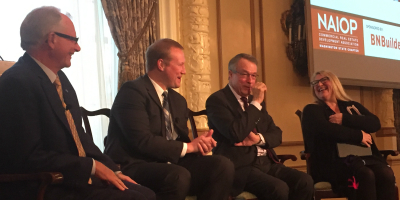 The first question went to Mark and he explained how Trammell Crow Residential came back to the Seattle market after the Great Recession. Mark explained that this is a key market for Trammell Crow and that they were starting small but they are growing!
Angelia asked Kemper about what he sees on the horizon for his company. Kemper replied that he would use the same guiding principle as always – to look at the market and respond to the trends that are occurring.
The question went to Douglas about how the recapitalization of Touchstone with Urban Renaissance Group came about and the implications for his and his partners' succession plans. Douglas responded that it took longer than he imagined – planning and patience were key.
Kemper responded to the question from Angelia about the differences in succession planning with a family business. Kemper acknowledged that the challenges are different when family is involved. He pointed to the following as key points in his succession plan:
Motivation of the family members

Their desire to remain in the area

The need to attract employees that are not family members

The advantages of empowering employees
Douglas talked about Touchstone's approach prior to the recapitalization. Douglas spoke to the need to assemble an "A" team; hiring in 2007-08 when no one else was hiring.
Mark spoke to the challenges of rebuilding a team from scratch as a young leader. His approach is to hire slowly – only one out of 50 applicants has been hired. He pointed to the following traits as being his key points in his hiring decisions:
Trust

Talent

Likeability

Integrity

Ambition

Intelligence and aptitude with new technologies
It was heartening to hear that a positive, "can do" attitude is his number one criteria in making a job offer to an applicant.
Angelia asked Douglas about the challenges Touchstone faced while making the deal with Urban Renaissance. He stated that managing the rumor mill was paramount and that the best management technique was to be open and transparent. He and his partners also looked for a cultural value fit and that Urban Renaissance quickly rose to the top.
Kemper was asked about choosing leadership when family and non-family members are involved in the choice. He responded that merit, honesty and fairness were the guiding principles. Kemper also stated that his foundational basis comes from the simple tenet that great retail is the catalyst for economic development.
Angelia asked the entire panel for the best advice for future leaders.
Douglas pointed to three things:
Education

Networking (NAIOP is a great group for this!)

Don't be afraid to work hard
Mark echoed Douglas's point about education and joining an organization that you can learn from. He also said that getting off the phone and the computer was key – it's important to be personal.
Kemper agreed with Mark and Douglas and added that relationships are key – you must work at them.
Angelia then opened up for audience questions. The first question was "What are the common mistakes that should be avoided when looking at succession planning?"
Kemper answered that in a family business you must do estate planning. Douglas stated that it was critical to keep succession planning foremost in your strategic plan.
Douglas responded to the question regarding recapitalization rather than just adding more partners. He maintains that the prime criteria was to keep it simple; it is hard to manage a lot of partners.
Finally, the question was asked – "What is most frequently missing in people who want to work for you?"
Mark said that the "can do" attitude, doing what needs to be done is the rarest quality that he encounters. Kemper added that a strong work ethic makes a candidate quickly rise to the top.
We were treated to a wealth of experience and knowledge by our panelists. It was interesting (for us older folks!) that the key ingredients of our success are still viable. Whether looking to hire or create a successful succession plan, attitude and hard work are still valuable commodities.
This article was submitted by NAIOP Washington State and Programs Committee member Ed Scherer, Account Executive, Avidex Industries.
Read the Daily Journal of Commerce coverage of this event.
The Deal is generously sponsored by:

Share this post: