2016 Primary Election Report [Government Affairs News]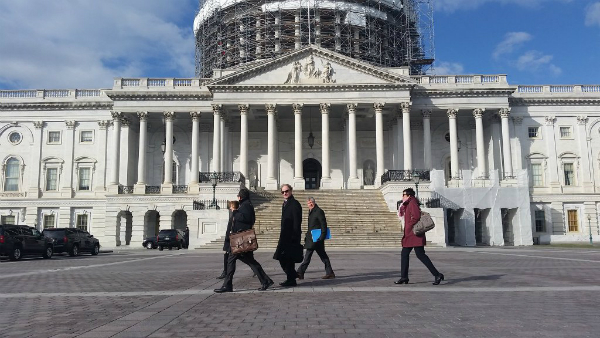 Washington's primary election was held on Tuesday, August 2; all ballots needed to be postmarked or delivered to a collection center by 8:00 p.m. Ballots submitted on Election Day can result ballot-counting for another week or more following Election Day. As of the evening of August 7, 1,357,000 votes had been counted, and another 60,000 remained to be counted. Turnout was at 33% and could climb a bit more as final ballots trickle in. Election results can be found on the Washington Secretary of State website.
Washington is a top two primary state, and the top two of any party advances to the general election.
Federal Elections Report
Senate
Patty Murray (D): 53.81%
Chris Vance (R) 27.64%
Congress
7th District (open seat)
Pramila Jayapal (D) 41.86%
Brady Pinero Walkinshaw (D) 21.2%.
Jayapal's numbers have continued to increase from election night. Walkinshaw edges McDermott to appear on the general election ballot.
All other congressional incumbents have sizable leads in their races.
State Elections Report
State Executive Offices
All nine statewide executive offices are on the ballot this year. Democrats currently hold seven of the nine statewide offices; Superintendent of Public Instruction (SPI) is non-partisan. Several of the offices are open seats in 2016 as the incumbents have retired, including Lt. Governor, Auditor, Treasurer, SPI and Lands Commissioner.
None of the results changed materially since the Tuesday evening ballot drop. Of note, two republicans will be running for State Treasurer.
Governor
Incumbent Jay Inslee (D) 49.24%
Bill Bryant (R) 38.46%
Lt. Governor
Sen. Cyrus Habib (D) 22%
Marty McClendon (R) 19.3%.

Secretary of State
Incumbent Kim Wyman (R) 48.61%
Tina Podlodowski (D) 46.01%
Treasurer
Duane Davidson (R) 25.22%
Michael Waite (R) 23.37%
Auditor
Mark Milcocia (R) 36.87%
Pat (Patrice) McCarthy (D) 29.23%
Attorney General
Incumbent Bob Ferguson (D) 72.65%
Joshua Trumboll (L) 27.35%
Commissioner of Public Lands
Steve McLaughlin (R) 38.16%
Hillary Franz (D) 22.59%
SPI
Erin Jones 25.46%
Chris Reykdal at 21%
Insurance Commissioner
Incumbent Mike Kriedler (D) 58.32%
Richard Schrock (R) 34.26%
State Legislature
All 98 members of the state House of Representatives and 26 of the 49 state Senate seats are up for re-election this year. Both houses currently have narrow majorities. Between the two houses, there are 73 Democrats, 73 Republicans and one Democrat who caucuses with the Senate Republicans to form the Majority Coalition Caucus (MCC).
State Senate
The MCC currently controls the Senate 26-23. The outcome of four races will likely determine who controls the Senate majority in the 2017 legislature. Three of these races currently have margins of less than 350 votes separating the two candidates:
5th Legislative District
Incumbent Mark Mullet (D) 50.55%
Chad Magendanz (R) 49.45%
Mullet maintains election night lead by 314 votes.
17th Legislative District (open seat)
Lynda Wilson (R) 50.06%
Tim Probst (D) 49.94%
Wilson trailed on election night, but now leads by 28 votes.
28th Legislative District
Incumbent Steve O'Ban (R) 53.75%
Marisa Peloquin (D) 46.25%
41st Legislative District
Incumbent Steve Litzow (R) 47.49
Lisa Wellman (D) 48.71. 47.64%
Wellman leads Litzow by 349 votes; a libertarian in the race received 3.8% of the vote.
State House
Democrats currently control the House 50-48. Less than a dozen seats will determine who holds the majority in 2017. A few of these key races are noted below. As in the Senate, several of these races are separated by razor thin differences after the primary vote.
5th Legislative District (open seat)
Paul Graves (R) 46.68%
Darcy Burner (D) 36.78%
17th Legislative District (open seat)
Vicki Craft (R) 33.44%
Sam Kim (D) 21.34%
25th Legislative District (open seat)
Joyce McDonald (R) 56.92%
Michelle Chatterton (D) 43.08%
26th Legislative District
Incumbent Jesse Young (R) 39.45%
Larry Seaquist (D) 36.25%
30th Legislative District
Incumbent Linda Kochmar (R) 47.09%
Mike Pellicciotti (D) 52.1% (Now 829 votes)
30th Legislative District
Incumbent Terri Hickel (R) 49.99
Kristine Reeves (D) 50.01% (2 votes)
31st Legislative District (open seat)
Phil Fortunato (R) 39.95
Lane Walthers (D) 36.34%
44th Legislative District (open seat)
John Lovick (D) 50.9%
Janice Huxford (R) 46.16%
In summary
Several races are so close that it is challenging to predict who will have the majority in either house in 2017. In many of the open-seat races there were multiple candidates running for the positions, and that adds to the difficulty of gaining a complete picture. One unknown factor is whether the contested presidential race has an impact on turnout and candidate preference in the Washington elections. The November general election will be very exciting.
Local Elections Report
Key Races: King County Ballot Measures
City of Seattle – Initiative 123
The City of Seattle Initiative Measure Number 123 concerns building and operating a mile-long elevated park on Alaskan Way.
YES: 17.14%
NO: 82.87%
Proposition 1 – Property Tax Renewal for Affordable Housing
The City of Seattle's Proposition 1 concerns replacing the Seattle Housing Levy. If approved, this proposition would replace an expiring levy to fund: housing for low-income seniors, workers, and households, and the disabled and mentally ill; and homelessness prevention and reduction programs, including emergency rental assistance for at-risk families. It authorizes regular property taxes above RCW 84.55 limits, allowing $290,000,000 in additional taxes over seven years beginning in 2017, limited to $41,428,571/year. The 2017 regular tax rate would be limited to $3.60/$1,000 assessed value, including approximately $0.25/$1,000 assessed value in additional taxes.
YES: 70.36%
NO: 29.64%
Key Races: Snohomish County Ballot Measures
If approved by the voters, this proposition will authorize an additional sales and use tax of two-tenths of one percent (0.2%) throughout Snohomish County. Consistent with state law, this proposed tax supports criminal justice purposes, benefitting the sheriff, the prosecuting attorney, public defense, and the courts. Revenues from this tax may also be used to support alternative programs to the traditional criminal justice system that not only seek to hold offenders accountable, but also help to identify and treat the underlying causes for their criminal conduct. Sixty percent (60%) of the monies collected by this tax will support county criminal justice purposes and the remaining forty percent (40%) will be distributed on a per capita basis to the cities within the county.
YES: 49.75%
NO: 50.25 %
Key Races: Pierce County Candidates
Pierce County Executive
Rick Talbert (D): 46.17%
Bruce Dammeier (R): 30.2%
Talbert is a Pierce County council member; Dammeier is a state senator.
Pierce County Council District No. 2
Carolyn Edmonds (D): 36.29%
Pam Roach (R): 45.55%
Roach, the controversial 31st District state senator, moved addresses to run in Pierce County, and has not made it clear when or whether she would relinquish her senate seat if she won. Edmonds is a former state legislator and King County Council member.
This report was written by NAIOP Washington State lobbyists Greg Hanon (federal and state reports) and Natalie Quick (local report).
Share this post: