Get to Know NAIOP's 2017 Hall of Fame Inductee: Douglas Howe
Be humble and always be flexible.
Anyone who knows Douglas Howe knows that his charismatic personality, dedication to his craft and keen business sense have made his success what it is today. His passion to develop buildings that make a positive impact on the built environment, his humility and the ardent viewpoint that he's a student of his field even after forty years are also hallmarks of his tenure—one that's made a significant difference to the Seattle urban core and the Puget Sound region.
NAIOP Washington State will honor and induct Douglas Howe, founder and former CEO of Touchstone, into its Hall of Fame at the 2017 Night of the Stars awards. The Hall of Fame was created to recognize the people who laid the groundwork for the industry today and have helped shape the character of the region and the great cities in Washington. Under Douglas' leadership, Touchstone has broken ground on 12 projects comprising nearly three million square feet and is currently developing two million square feet of real estate.
Douglas has found NAIOP to be a place of education, networking and relationships, locally and nationally. In fact, some of those relationships have formed into long-lasting, tight-knit friendships. Douglas has made NAIOP his primary home for the past 20 years because he believes the organization is truly a developer's organization, focusing on principal developers with the involvement of the synergistic ecosystem of businesses and organizations around them. In fact, Douglas was instrumental in helping create the national strategic plan in the early 2000s to steer the organization to a focus on mixed-use commercial real estate and on becoming a more urban-centric developer's association. He genuinely believes that he's received more than he's put into the membership and that NAIOP's strength is in inspiring bottom-up action, allowing each chapter to define itself. Douglas served as Washington State Chapter President in 2004, as National Chairman for NAIOP Corporate in 2009, and is currently serving as a Governor of the NAIOP Research Foundation. Additionally, Touchstone was the 2015 NAIOP WA State Chapter Developer of the Year and the 2016 NAIOP National Developer of the Year. On the personal accolade of being inducted into the Hall of Fame, he says,
There is nothing more humbling or gratifying than to be recognized by your friends and peers in your own development community and NAIOP.
As Douglas says, "A good developer is a big picture generalist." Developers understand all disciplines of businesses and appreciate the critical importance of primary employment. Ever humble, Douglas credits much of his success to these primary employers of our region and their growth.
Douglas has had fun in his well-respected career, and questioned on whether he ever thought it would not work despite the hard work, he unabashedly claims that "in every real estate cycle there are always some white-knuckle moments!" Made for the job, he's risk-averse, business savvy and forward-thinking with an entrepreneurial heart. He says that learning the multi-faceted business, keeping an open mind and being flexible are some of the most important aspects to surviving as a commercial real estate developer since the business is risky and cyclical, and you must weather through it strategically.
Douglas has been a University of Washington Runstad Advisory Board member since 2011 and is an active mentor to students to this day. He values learning at all levels, all ages, and in all areas of life. There is a steep learning curve to the industry; being able to help young professionals think through the field gives him satisfaction. After all, he was able to learn from his family and most especially his great uncle when he was starting out, even with their 50-year age difference.
Douglas imparts that he has always tried earnestly to figure out what the primary employers wanted and build space for them as well as anticipate the needs of the next cycle. He's tried to be a strong leader with clear focus and learn from every single project since no two are exactly alike. A self-proclaimed student of the constantly changing environment, he rightly believes that the critical point of success is figuring out how the work environment is changing and anticipating the next cycle. This is aptly demonstrated in his career. Touchstone's primary projects were lined up during the last downturn, when many market participants had been sidelined, and those keeping up with the evolving tech office needs in Seattle. Therefore, we should heed his predictions for the years ahead. His economic outlook is based on the natural marriage between biotechnology and computational science and big data. He sees Seattle having the right mix of investment, energy and brainpower to disrupt the biotechnology scene because Seattle is already a center for innovation and research in global health, biotechnology, and health and wellness.
Everyone wants what Seattle has. Seattle has the right mix of investment, energy, and brain power.
"Every city wants what Seattle has, but few have that special synergy although they may try to replicate that," Douglas says. "The energy is positive to develop Seattle as an urban center." There's a handful of great environments that benefit from these economic cycles and Seattle is one of them. It's clear he loves the region—and he never wanted to be anywhere else because of the quality of life in the Pacific Northwest and, consequently, its attraction to employers.
Douglas says that competition will heat up in the coming years, and that Seattle must not only keep up, but also be in a leadership position in both business and government. There will be a significant benefit if we have the right jobs in our backyard. Yet most important, he points out that we have to be mindful collectively, as a community, of opportunities, and not squander primary employers' initiatives as they drive and influence everything. Staying ahead of the changing environment will be critical.
Characteristic of his personality and care for each of his projects, when asked to talk about his favorites, Douglas replied, "How can you not love all your children?" Also true to his character, he used "Innovative," "Complex," and "Forever" to describe them at the request for one-word descriptions. They are the 9th and Stewart Life Sciences Building, Northgate North Retail Center and the Thompson Hotel – Sequel Apartments respectively, and more can be found out about the projects below.
Douglas feels fortunate to have found a timely calling in life and so very blessed to have found his niche at an early age. He continues to credit his success to a great team, excellent mentors and consultants, as well as the Puget Sound community and the state of the region's economy.
Douglas graduated from UW and received an MBA in Finance from UPS. He is married to Robin DuBrin and has two children, Brian and Julianne, and loves skiing in Hokkaido, Japan. One of his favorite structures in Seattle is the US Bank Centre for the way it distinctively blends the elements of art, retail and office in the interior along with the uniqueness of the building's exterior.
Your years-long service and dedication have surely benefited our community, the region, and the state, and for that esteemed legacy, we welcome you to the Hall of Fame, Douglas.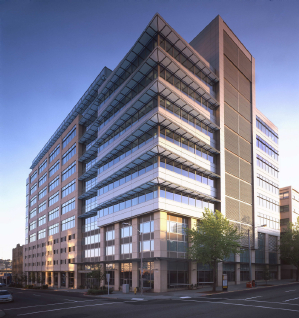 INNOVATIVE: 9th and Stewart Life Sciences Building
Completed in 2004, this 230,000-square-foot biotechnology R&D building on seven levels, located in Seattle's Denny Triangle neighborhood, was successfully leased to GlaxoSmithKline before being re-tenanted and sold to Children's Hospital Research Institute in 2006. 9th and Stewart received the 2004 Technology Space of the Year and 2004 Office Deal of the Year awards from NAIOP, and was also named the SIOR 2004 Office Development of the Year.
COMPLEX: Northgate North Retail Center
Anchored by one of the first Urban Target multi-level store concepts, this 330,000-square-foot urban retail project also includes both Best Buy and Ross stores. This project has 20-foot clear height retail space on three levels above grade and one level below grade, plus an eight-level, 1,000 car parking structure and six loading docks below grade. Northgate North was completed in 2000 and is directly north of Seattle's Northgate Mall on Northgate Way and close to the Transit Center off I-5.
FOREVER: Thompson Seattle Hotel – Sequel Apartments
The Thompson Hotel – Sequel Apartments are located in downtown Seattle at First and Stewart across from the Pike Place Market and the nearby retail district. After more than 10 years of negotiating with two property owners for control of the property, a 77-year ground lease was executed in 2007. After eight DRB meetings and two Master Use Permits, this iconic building design was approved in 2011. This mixed-use project was completed in 2016 and includes over 200,000 square feet plus a 145-car, below grade parking garage. This 160-key boutique hotel and 96-unit luxury apartment complex includes the award-winning SCOUT Restaurant and the NEST rooftop deck bar. The Thompson Seattle Hotel was named the 2016 NAIOP WA Hospitality Development of the Year.
---
This article was written by NAIOP WA and Marcom committee member Sarah D. Fischer, CallisonRTKL.
Share this post: