Tourism & Hospitality Trends & Forecast [December 2017 Breakfast Recap]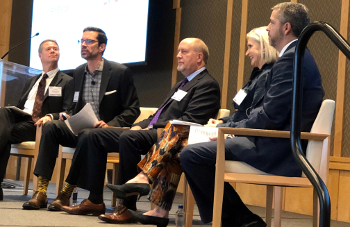 NAIOP WA members and guests gathered last Wednesday morning to learn about tourism and hospitality in our region. Before the panel started, attendees were treated to a video montage from September's Community Enhancement event at Farmer Frog, a sustainable, educational farm in Woodinville.
NAIOP Washington state outgoing president Kristin Jensen introduced the morning's breakfast topic. The hospitality and tourism sector is growing in Seattle and the Puget Sound. The panel discussed the factors making that a reality, including exponential population growth, and what the 58 cranes dotting the Seattle skyline mean for the future of the industry.
Andrew Olsen, Vice President at Columbia Hospitality, moderated the panel with Greg Duff, Chair and Owner of Garvey Schubert Barer, Chris Burdett, SVP of CBRE Hotels, David Blandford, Public Affairs SVP at Visit Seattle, and Carla Murray, SVP of Marriott International.
All of the panelists are encouraged by the Washington State Convention Center expansion breaking ground next year with completion slated for 2021. David Blandford of Visit Seattle talked about the substantial service demands the expansion will be able to meet as well as the additional benefits to the economy and community as a result of the new capacity. Currently, the convention center is the smallest on the west coast. The expansion will provide approximately 414,722 square feet of meeting and exhibit space. Blandford also talked about tourism initiatives like www.visitseattle.tv and niche festivals bringing visitors in locally and from around the world.
Greg Duff, Chair and Owner at Garvey Schubert Barer, a leading legal firm in Seattle, talked about the consolidation and ever-blurring distinctions of short-term rental brands, and increased regulation. Duff then gave insight on the distribution of these brands, booking choices, and how people are making their bookings. There is a proliferation of traditional lodging brands, growing of soft brands, and an increase in booking brands.
CBRE's Chris Burdett dove into the profile of the current market, examining interesting stats such as:
We have 69 hotels with 13,684 rooms.
2,000 rooms were added between 2008 and 2016, an average of 1.9% per year.
649 rooms were recently added, an overall increase of 5% to the existing supply.
2,879 rooms are under construction, an overall increase of 21% to the existing supply.

This will result in a new base of 79 hotels with 16,563 rooms.

3,900 rooms are planned, an overall increase of 23.5% to the expanded base.
The South Sound plans to add 686 rooms, and the Eastside plans to add 544 rooms.
Blandford closed with the pros and cons of the hospitality market going forward.
Carla Murray of Marriott International talked about demand in our region at 5.65% with just 1.72% supply available. Seattle is at capacity and critical drivers are convention center bookings as well as business and leisure tourism. Murray talked about the RevPAR (Revenue Per Available Room) statistics and how the national trend of PAR increasing is the same for our city.
A question from the audience inquired as to how immigration laws could affect the region's bullish outlook for tourism. Burdett answered that the region is influenced by seasonal visas for workers who, for example, want to come and work six months at a ski resort.
Murray ended the session by answering a question on the influence booking brands have on people and how powerful the award programs are. She responded by saying that brands will always want to talk to their customers directly and that loyalty programs are growing at a rate of one million subscribers per month.
To see the slides from the morning's discussion, open the NAIOP Washington State app and look for the "Resources" module.

If you have not yet downloaded the app, search NAIOP Washington State in the Google or Apple app store or click here. Your login is your email address and password, which is set to your last name unless you have changed it. To update your password, click here to request a password reset link or contact [email protected] for assistance.
This post was written by NAIOP WA and Marcom committee member Sarah D. Fischer, CallisonRTKL.
Share this post: