Change Makers for a Better Future [Event Recap]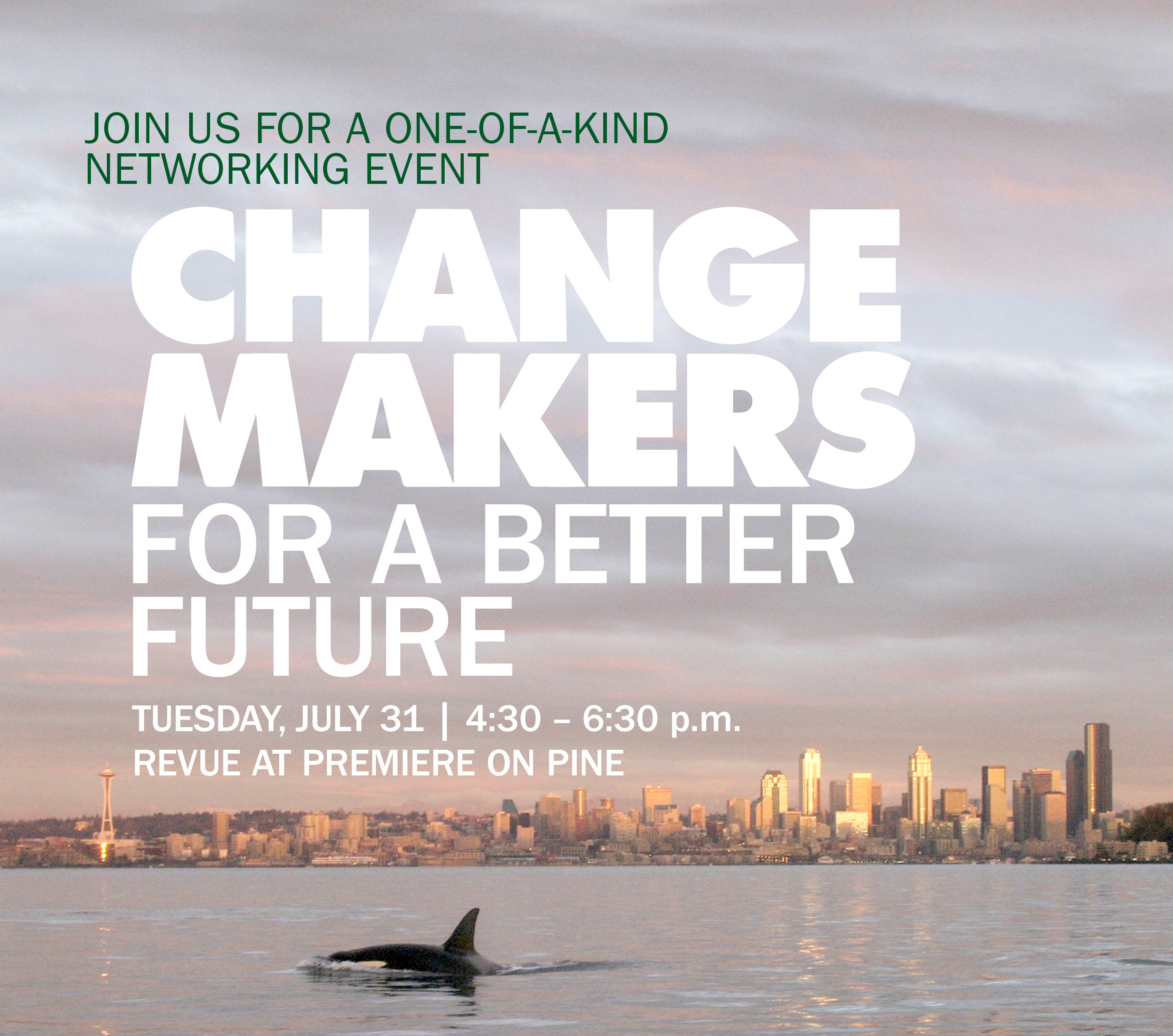 We all hope for a better future. On July 31, the NAIOPWA Sustainable Development Committee and the Developing Leaders Committee co-hosted the third annual Change Makers networking event, with the goal of getting closer to that better future.
To do this, the committees brought together voices from a diverse group of local change-making organizations caring for our environment, charting innovative codes and policy, and establishing Seattle as a leader in sustainable development and beyond. The goal was to pool the attendees' collective wisdom, challenge assumptions, reach across boundaries and explore what's possible when everyone pulls in the same direction.
To spur transformational conversation, Jill Jago, Sustainability Committee Co-Chair, brought dozens of photo cards developed by B+H Advance Strategy. Imagery on the cards ranged from expansive scenery to dense urban structures, and from single images to complex motifs. Participants in small groups chose photographs representing the present. Next they selected photographs representing what they envision for the future. Using representational visuals helped participants to quickly identify the challenges, and even more quickly envision the desired future.
Next, attendees were asked what must be different to reach this desired future. They identified a range of categories in which things must change: politics, transportation, infrastructure, globalization, and public-private collaboration. This expansive scope of topics illustrates the importance of events like these to keep brainstorming happening. Getting people to talk about how to change, and keeping the problem active in the minds of those who work in the development industry, is critical to making change.
Participants noted how much local/regional governance and policy play into people's sense of gridlock and lack of progress. Everyone shares the same vision for the future—and everyone more or less agrees on what our major issues are today—but no one seems to be able to find a way forward. Every other city that has done this successfully has usually created some form of public-private partnership. Is that what's needed here?
The NAIOPWA Sustainable Development Committee's vision is to expand members' drive and knowledge regarding sustainable practices by providing inspiration for continued advancement, highlighting the current state of sustainable development, and presenting successful case studies. The overarching theme for 2018 is Making Room: Growth & Finite Resources. Events are centered around the influx of people and business coming into our region. How do we create a thriving city that can support our growing population? If you're interested in joining the committee, contact one of our current co-chairs: Rachael Meyer, Weber Thompson; Jill Jago, B+H Advance Strategy, or Alexandra Ramsden, Rushing.
Developing Leaders co-chairs are Andrew Donaldson, Westlake Consulting Group, and Allison Shephard, Holland Partner Group.
This article was written by NAIOPWA members Susan Kemp, Marketing Manager, Hart Crowser (Sustainability and Programs Committees member); and Jill Jago, Director, Marketing + Communications, B+H Advance Strategy (Sustainability Committee co-chair).
NAIOPWA members have access to our full member directory via the NAIOPWA app. Committee membership is open to current chapter members only. To learn more about membership, contact Member Engagement Manager Danielle Duvall, [email protected].
Share this post: