WA Real Estate Development Added $8.9B to State Economy in 2020
Washington is the #9 state in the U.S. for contributions to state GDP created by office real estate development. Overall, construction and development of office, industrial, warehouse and retail created and supported 54,983 related jobs and contributing $8.9 billion to the state's economy in 2020 (the most recent data available).
The data is from "Economic Impacts of Commercial Real Estate, 2021 U.S. Edition," published annually by the NAIOP Research Foundation.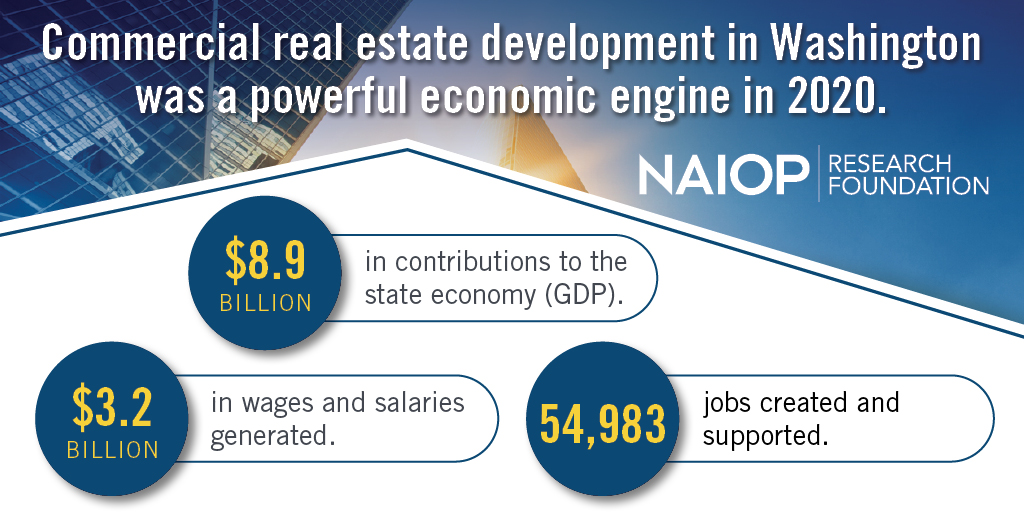 New development and ongoing operations of existing commercial real estate buildings in the United States – office, industrial, warehouse and retail – generates significant economic growth at national level: 
Created and supported 8 million American jobs in 2020.
Contributed $1.01 trillion to U.S. GDP.
Generated $338.1 billion in salaries and wages.
"Many factors point to a commercial real estate rebound in 2021," said Thomas J. Bisacquino, president and CEO of NAIOP. "Obviously, we dealt with several unknowns and unexpected challenges in 2020. The pandemic accelerated trends already progressing in real estate. The warehouse sector has flourished as e-commerce demand intensified; office space has been impacted by tenant demand, as remote work options expand and companies rethink space needs; and the retail sector struggled as shoppers preferred to buy online. Nonetheless, commercial real estate construction and development sectors remain solid, valuable contributors to the U.S. economy, and we have a bright future as the economy continues to improve."
Download the report, see state data and watch the video: www.naiop.org/contributions21
Share this post: